Podcast: Play in new window | Download
Subscribe: Apple Podcasts | Android | Email | RSS | More
Promote yourself. You must. Go back and listen to Episode 153 about shameless self-promotion. It's a serious, tongue-in-cheek conversation about how powerful it can be to tell people how great you (and your work) are. Some of us need to learn to do it — or more of it — and better!
My work focuses only on these 3 things:
1. helping my clients get more customers
2. helping them serve their customers better
3. helping them to not go crazy in the process
Some small business owners don't think service is part of marketing. Some big businesses sure don't think it is. They're wrong. Kent Julian tweeted this on Tuesday. Kent's not a rough and tumble kinda guy. He's kind, polite and professional. He's also normal. We all get fed up, eventually, with poor service, dumb policies and idiotic responses. Delta let down a man who has flown over half a million miles with them. Hello, marketing!

Marketing is everything. Everything is marketing.
This little girl is my daughter. Well, that was her when she wandered off during a visit to the mall. She left the toy store we were in. What kinda kid leaves a toy store? She did.
Like any good father, I panicked. My wife and son stayed together while I scrambled to find her. Man alive, it happened so fast. And we were (still are) very attentive. The kind of parents who have eyes in the back of their head and see/hear most everything.
This was long before Amber Alerts or horror stories of abducted children. Still, I was immediately filled with worry.
I set about to broadcast my search for her. Immediately. Without hesitation. I was a man on a mission to find my lost daughter.
There are lessons for all of us in my little story. Lessons that I think can help give us the much-needed confidence to spread the word about our value to the world.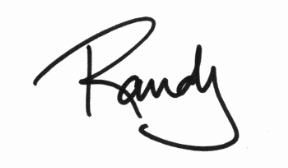 P.S. This is my daughter and me – much more recent version of her.
Podcast Options:
• Subscribe via the iTunes store
• Android, Blackberry & other listeners can listen on Stitcher Radio
• Right-click here to download this episode to your computer
• Click here to playback in a new window