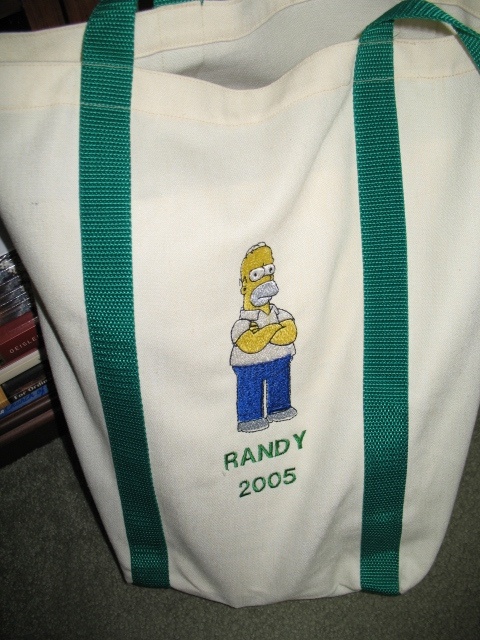 My Ambidextrous Book Bag Will Soon Turn 8
I'd like to introduce you to my book bag. Rhonda (my wife) made it for me in 2005 (as you can see). It's an ambidextrous book bag. Depending on how you want to look at it – it's got neither a front nor a back OR it's got two fronts and no back.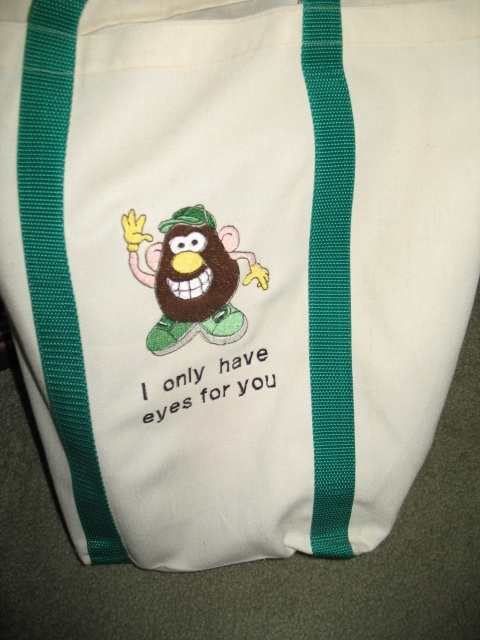 That's how I roll. I'm a front facing guy. Well, I'm trying to be…more so.
Do you have a book bag? I'm fearful that book bags like this will go the way of the dinosaur thanks to digital media. I love digital media, but I still like thumbing through a physical magazine or book. And nothing will replace a notebook and pen. Not for me!
The irony is that my Kindle is inside my book bag. That's fitting really though because I'm a guy stuck in between analog and digital. And not just with books or magazines or notebooks. It's true of The Yellow Studio, too. I've got loads of analog gear connected and producing digital files.
My book bag will turn 8 in May. Well, THIS book bag turns 8. I've got older, well-worn bags that are much older. They're retired now though. Mostly stuck in the closet housing some old papers or something. This bag is relatively young yet though…with lots of life left.
So let's get on with it and let me show you what's in my book bag today. There's no importance to the order of items in the bag. It's just how they stack up as I thumb through.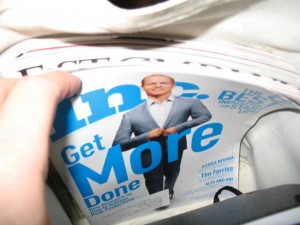 1. Inc. magazine – I've been a longtime reader of Inc. I'm very bad at waiting until I've got 2 or 3 issues of a magazine before I read them. That's a habit I developed within the last 10 years. I'm not sure why. I used to devour an issue the day it arrived. Now, I pile them to the side, put them in my book bag and get around to them whenever I get around to them.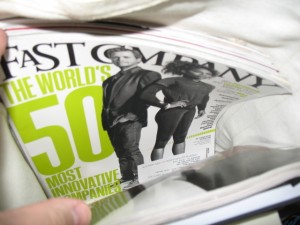 2. Fast Company – I started subscribing to this magazine when it first came out in 1995/1996. It's still staple reading for me.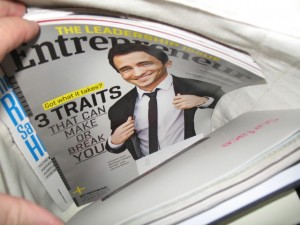 3. Entrepreneur – I've been in and out on this magazine through the years. It's been a much less steady habit than Inc. or Fast Company, but about 6 years ago I returned to it as a subscriber. There are still quite a few things I love about it and other things that don't interest me at all (like all the franchise stuff in the back).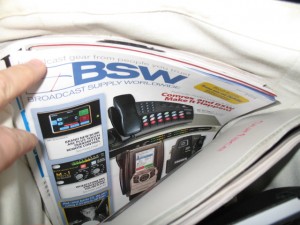 4. BSWUSA.com catalog – Yeah, it's a guilty pleasure. Catalogs have always been a fascination. Even as a child I loved a good catalog. Toys. Sporting goods. Hi Fi gear. Electronics. SkyMall. 😉
BSW is a pro audio gear provider specializing in the broadcast field. Much of my gear Inside The Yellow Studio came from them. I have no use for much of this gear as it's focused on terrestrial radio stations, but microphones, processors, mixers and the like are still capable of fostering gear envy. There is almost always a gear catalog inside my book bag.
I suspect this book bag – Homer/Mr. Potato Head – will last me the rest of my life. Earlier bags had to handle heavier loads. I always over stuffed earlier book bags with physical books because I could never leave behind a book I was reading. And I was always reading 6 or more books at one time. Seams would burst. Handles would break. Tears in the fabric would compromise the integrity of the bag. I don't see that happening with this bag because the Kindle changed all that. I now pack the Kindle and at most, two physical books.
That's good news. I'm pleased that while Homer/Mr. Potato Head will turn 8 next month…they'll likely be with me the rest of my life, along with the knowledge and wisdom of the contents carried by them.