Podcast: Play in new window | Download (Duration: 1:05:32 — 60.0MB)
Subscribe: Apple Podcasts | Google Podcasts | Spotify | Email | RSS | More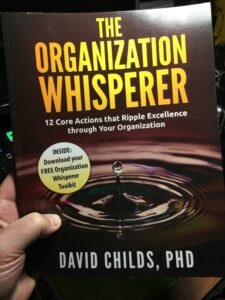 Serendipity happened.
I was traveling. Part business, part pleasure.
I walked into a place to get some information and came face to face with a man who had spent decades in Texas. The fact was, he lived in the DFW area for many years – the place I had driven from for this trip. He introduced himself. David Childs.
As we chatted it was apparent we had a number of things in common. He was mostly – but not altogether – retired. A few years earlier he and his wife had left the DFW area and come here, the place of their encore home. It was closer to her family in St. Louis.
Turns out David had extensive experience in building high-performing cultures inside teams and organizations. Upon learning about my work he said, "Wait here a second, I've got a book I'd like to give you." Always on the prowl for a good book, I happily waited.
David handed me an over-sized paperback book titled, "The Organization Whisperer." The author? David Childs, PhD.
"Look at you, Mr. Big Shot Smarty Pants," I jokingly said. "I didn't know it was YOUR book."
We talked a bit about the book and what had prompted him to write it. Then I asked him to autograph it for me, thanked him and told him I'd like to keep in touch.
Which I did.
Find Dr. David Childs at his website, TheOrganizationWhisperer.com, or at Linkedin.
Be well. Do good. Grow great!