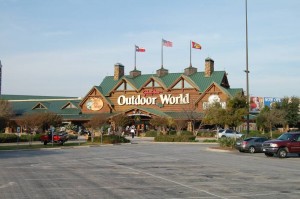 This is the nearest Bass Pro Shop Outdoor World. It's in Grapevine, Texas. They do retail right! I speak as a retail expert, not an outdoorsman.
No, today's show isn't about hunting or fishing. If you're a hunter or a fisherman you'll be disappointed, but thankful. I've got nothing of value to share in those areas 'cause I'm an inexperienced idiot in both areas. But…
I have spent enough time inside Outdoor World to be impressed and to understand the lure (pun intended).
We've all got our own temptations. Things that draw us in and captivate us…sometimes for hours on end.
Distraction and focus are two very popular topics because they're so universal. They're also at the heart of this Outdoor World story.
Thanks for watching,