Podcast: Play in new window | Download (Duration: 29:39 — 34.9MB)
Subscribe: Apple Podcasts | Google Podcasts | Spotify | Email | RSS | More
Let's start with a press release that came out on Tuesday, July 16, 2019. It could be found at Yahoo! Finance, among other places. Since this is a podcast permit me to share it with you. It's not terribly long.
Leo Bottary Announces the Launch of Peernovation
July 16, 2019
New company will help business leaders learn from one another more effectively and develop higher performing teams in the workplace
After a decade of research, two books, and the successful completion of more than 100 peer group self-assessment workshops for business leaders in North America and Europe, Leo Bottary has announced the launch of Peernovation, LLC. Leveraging Bottary's work in group dynamics, Peernovation will address two major challenges for companies today: 1) The lack of ROI for employee learning and development programs; and, 2) the problem of alignment and employee engagement when implementing strategic initiatives. Bottary, who will serve as managing partner, will be joined by peer advantage group facilitator and podcaster, Randy Cantrell.  Cantrell will lead online mastermind groups for start-ups and scale-ups, utilizing an exciting purpose-built scalable peer learning platform called Circles.<
"We learn and work better when we do it together," Bottary said.  "My work with peer groups over the past 10 years has shown time and time again that when great people bring their 'A games' to a properly run group, there's no challenge too big or opportunity too daunting.  This includes receiving real ROI from the *$360 billion organizations spent on learning and development in 2018 and improving on the paltry **10% success rate associated with the successful implementation of organizational strategic initiatives.  Peers and innovation are hand in glove.
"Peernovation will also assist organizations that assemble and facilitate peer groups for business leaders by helping members maximize their collaborative experiences to achieve more impactful outcomes.  Bottary added, "When business leaders participate in high performing peer groups, they tend to be more adept at understanding the power of peers and creating more collaborative environments at their companies."
Leo Bottary is a sought-after thought leader on peer advantage, an emerging discipline dedicated to strategically engaging peers to realize your business and life goals. A popular author, keynote speaker and workshop facilitator, he also serves as an adjunct professor for Rutgers University.  Bottary's first book, which he coauthored with former Vistage CEO Leon Shapiro, is titled The Power of Peers: How the Company You Keep Drives Leadership Growth & Success (2016).  His latest book, What Anyone Can Do: How Surrounding Yourself with the Right People Will Drive Change, Opportunity, and Personal Growth, was released in September, 2018.
Randy Cantrell leverages over two decades of CEO experience into coaching and advising CEOs and entrepreneurs. A longtime podcaster, he is also launching peer advisory groups serving small business owners at ThePeerAdvantage.com.
* https://trainingindustry.com/wiki/leadership/the-leadership-training-market/
** https://www.inc.com/maya-hu-chan/90-percent-of-companies-fail-to-do-this.html
---
I'm now a few weeks away from launching the first group of The Peer Advantage by Bula Network.
Lessons in Reinvention
The trifecta of business building is always in play for commercial enterprises:
Getting new customers
Serving existing customers better
Not going crazy in the process
Non-profit enterprises, including city governments, have a slight different trifecta they're aiming to hit. Depending on the organization the first two can be pretty interchangeable.
Provide extraordinary value
Get and manage funding
Not going crazy in the process
For the past years since leaving the C-Suite, I've devoted myself first to consulting, which quickly morphed into coaching. Consulting is mostly "I do it for you" while coaching is "let me help you figure out how to best do it yourself." I hated consulting. I've loved coaching.
Four years or so ago my life changed. I was introduced to something I had never experienced. Fact is, I had limited exposure to it. Vistage is responsible for the insight and I'll always be thankful to them for the formal introduction. A recruiter reached out to me to see if I'd be interested in becoming a Vistage Chair, facilitating CEO peer groups here in the Dallas/Ft. Worth area. A local Vistage Chair, Ed Burke, had nominated me. Thanks, Ed! If you're a CEO in the Dallas/Ft. Worth area and interested in joining Vistage, connect with Ed. Tell him I sent you.
I knew Ed left his own CEO role and had become a Vistage Chair, but I didn't know what that meant. Or even what it was. But when the recruiter contacted me I decided to dive in to learn more.
Eventually, I found myself flying to San Diego to attend a week-long training/vetting session. It was interesting, if not sometimes intimidating. I'd never experienced group stuff much. Team stuff? You bet. I've spent my life assembling and leading teams.
A team exists to accomplish a common goal.
A group exists to help each individual person accomplish their own goal.
I was rather fascinated by it all. At this point I was waist deep in executive and leadership coaching. The focus was predominately "soft skills stuff." As one CEO said to me, "I don't know why soft skills are so hard." But for many people, they are. I'm ideally suited for it. Thankfully, it's a strong suit for me. Don't ask about my weak suits because this podcast would take way too long if we went down that rabbit hole. 😉
At the end of the week in San Diego Vistage offered me an opportunity and I accepted it. A few months later I attended the second training session, again flying to San Diego (this is all done on your own dime, by the way; Vistage Chairs are self-employed). By the time a number of months had passed a few things were clear to me. One, I wasn't right for this and two, the timing wasn't right.
I'm too much of a renegade. I'm a lifelong problem-solver and the fine folks at Vistage may have made a mistake in taking me on. 😀 Truthfully, fit is everything and thankfully I saw it, came to terms with it and respectfully bowed out. Recommending Ed Burke and Vistage proves it was a perfectly happy parting. That was 4 years ago.
I was in love with the whole GROUP thing. The value of others wasn't new to me, but leveraging it with such intentionality was. I started reading and studying it more. I was convinced I'd be in this space. I had no idea what form it might take. I mostly devoted myself to becoming a student. L.U.G. was in full play. I was LEARNING hoping to increase my UNDERSTANDING so I could grow.
I won't bore you with all the books I read, but two books caught my attention right away.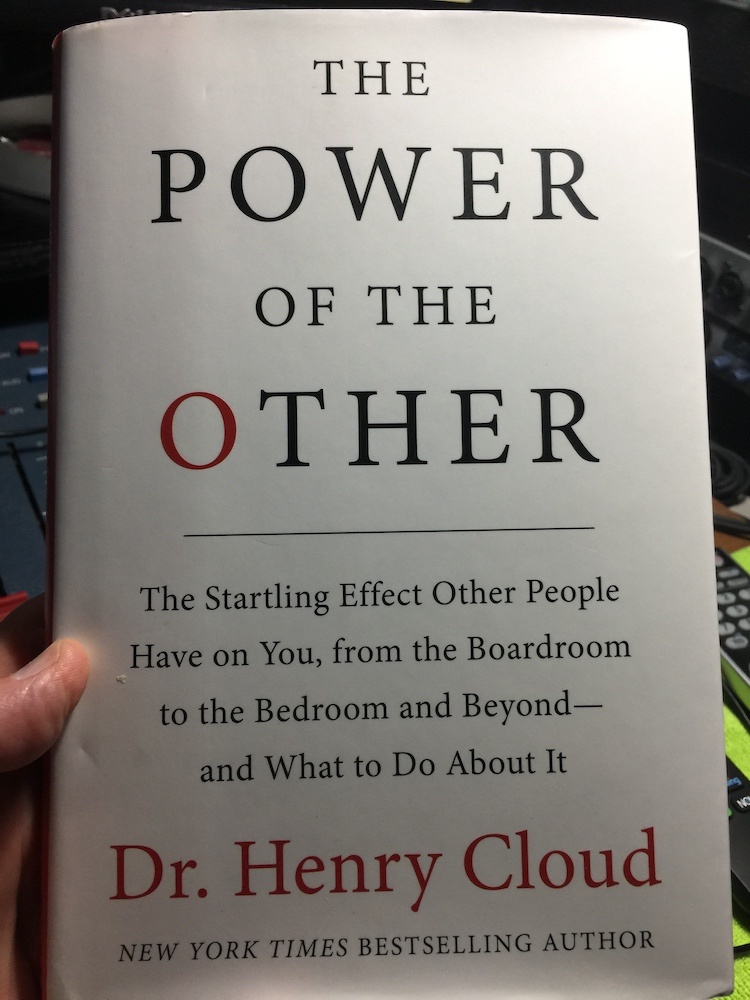 The Power of Peers by Leon Shapiro and Leo Bottary
Leon was the sitting CEO of Vistage. Leo was a VP at Vistage. I didn't know either of them at the time.
The Power Of The Other by Dr. Henry Cloud
I've been a longtime fan of Dr. Cloud, but don't know him personally. I have tried repeatedly to get him on a podcast, but so far no luck! Maybe one day.
About the time I left Vistage turns out Leo Bottary had left to begin a career of public speaking on all the research he had done on the power of professional peer groups. Wanting to learn more myself I had an epiphany. Why not connect with Leo to have him teach me what he had spent years learning? So I did. But I wanted to bring him value because he had no clue who I was.
I didn't see much publicity for the book, The Power Of Peers. I had intentionally looked for interviews with either of the authors. I stumbled across one interview with Leo. As a longtime podcaster, I knew this topic – the power of the collective – had legs. I wanted to help evangelize the opportunity, especially for top-level business leaders. My thought was, "This guy should start a podcast. I can help him do it."
Fast forward a few months and that's exactly what happened. Leo named the podcast, The Year Of The Peer. I produced it and served all the behind-the-scenes roles. We started it in January 2017. Charlene Li was the first guest.
Leo was quickly becoming more than a mentor/teacher. We became friends. Life tossed both of us some personal curveballs and we grew confident in sharing, supporting and encouraging each other. We started the podcast to spread the word and engage in meaningful conversations. There was no business plan. We're both capitalists, but the purpose wasn't centered on making money.
At some point, Leo realized he had the makings of a new book, based on all these conversations we were having with people. Time and time again people were acknowledging that their performance and accomplishments had been greatly impacted by the influence, support and encouragement of others.
Leo remembered a quote from a running coach and columnist from the '70s – Joe Henderson – who remarked that champions mostly do the things anyone can do. The difference? They do them when others don't. Or won't. That became the working title – and eventually the published title of the book.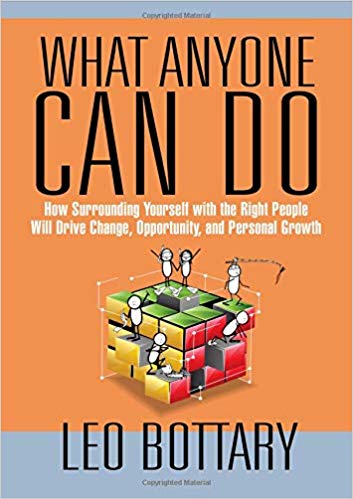 Leo graciously invited me to join him to make the conversations on the podcast more robust. Not sure I have fully delivered on that objective, but I was happy to accept. We were putting in lots of time and effort, but again – no business model, no business plan. We were simply devoted to getting the word out about how we can all benefit from being more intentional in who we surround ourselves with.
A year or so ago we started having casual conversations about how we could structure a business offering so we could broaden and deepen the impact we were having. I had long told Leo that I felt ideally wired to lead a group of CEOs or SMB owners. My heart was more bent toward the small business owner. And I didn't care about the dollar revenue or headcount. I cared about how close the owner was to the work. I was (and still am) attracted to business owners who are flattered by the label, OPERATOR. Leo encouraged me to do it. I began to get my head wrapped around it.
I didn't want to do a full-day meeting. And I didn't want to do an "in-person" group. I've lived in the Internet age since it began. I'm an odd duck in that I'm tech-savvy and I've been producing online content since 1997. Well, to be fair. My odd because I'm old and have those skills. 😉
I wanted to do a virtual group because I know the time constraints of being a true OPERATOR. My lifelong fanatism is on customers! I wasn't thinking of what I wanted. I was thinking of what my potential customers would NEED. High value provided as efficiently as possible. Thanks to technology, it's not just possible. It's easy.
I set about to tease the idea. The Grow Great Daily Brief was my platform where I shared daily snippets of insight, experience and wisdom. I've operated businesses since I was in my early 20's. I was never trying to tell you what to do. I was doing what I love to do most – just trying to provoke you to think more deeply about things so you can figure it out for yourself. I'm here to help.
The podcast was weekly, but I wanted to produce content more regularly and make the episode shorter. The branding was GROW GREAT. Mostly because it was quick, easy to remember and captured what I was trying to do myself and what I wanted to encourage you to do. Grow great!
All the while I was battling what coaches worldwide battle. The first two legs of the trifecta. In my experience, the people most gifted at coaching aren't necessarily ideally wired to get customers. I've got sales DNA but when you're selling such a personal – and personalized – service it's not like peddling a product. And I'm NOT transactional in the least! Never have been.
The second leg of the trifecta is where I shine best. It's hard when you really have to simultaneously have to serve AND then go acquire new clients. No, it's not hard. It's exhausting! 😀 For a guy like me. Which means that third leg of the trifecta is so far away you can possibly see how you'll ever hit that.
I've had one foot in the past (and present) and one in the future. One foot was in the traditional executive/leadership coaching I was doing and one foot was in the effort to build the first group of THE PEER ADVANTAGE by Bula Network. Okay, that's not entirely true. I had both feet and my brain fully committed to THE PEER ADVANTAGE by Bula Network. But I was still juggling the traditional coaching business.
I told Leo that I wanted to lead these groups and limit my coaching ONLY to members of THE PEER ADVANTAGE by Bula Network. But it wasn't (and isn't yet) my reality. It will be though.
Such are the grinds of redefining or reinventing yourself or your business. But it's the exciting opportunity of being a solopreneur. The negative is, there's no place to hide. And it's insanely lonely, which is a large driver for the new effort. To help SMB owners overcome or better manage their own loneliness. Every single SMB owner knows the feeling. So when I sit there as the leader of THE PEER ADVANTAGE by Bula Network, I'm part of the group. I'm right there with every other member. I know the struggles, the opportunities, the constraints, and the loneliness.
The Darkness Before The Dawn
Since the beginning of the year, I feel like I've been straddling a fence, but knowing which side of the fence I wanted to be on. Just unable to get there fast enough.
SMB owners know the feeling. We have to operate on a patient that can't be put to sleep. The patient is up and walking around. Late last week I had my once-every-five-years fun. A colonoscopy. They're not bad. If you don't have them done with some regularity, I'd encourage you to change your mind. Do it for yourself. Do it for your family. My maternal grandfather died when I was 16 or so. He was only 66. But it was a different time. Real men didn't go to the doctor. They just died. It wasn't a good practice to prove manhood.
At any rate, they put you to sleep when you have a colonoscopy. Imagine trying to do such a procedure on a patient that refused to lay down, much less to be put to sleep — and that'll give you some idea of what we as business people experience when we try to fix a problem or take advantage of an opportunity in our businesses. That's exactly my problem.
Things had to get dark before I'd willingly walk toward the light. Boy, did I feel like walking toward the light more often than not. 😉
Leo nudged me. That's what friends are for. "Set a date," he said. Immediately, I said, "Okay." Well, I kinda sorta did. I said "first part of August." That's okay!
And I hit PAUSE on the Grow Great Daily Brief. I already knew I wanted to refocus the podcast toward the whole peer advantage space. But I was bashful to go for it. I reached out to two podcasting buddies hoping to have them help me. One replied. The other didn't. And it was fine because I knew what I wanted (and needed) to do. I emailed my buddies these questions that I asked them to help me wrestle with.
a. If this podcast were like a party that I was hosting, who would I most want to attend?
I mostly want to evangelize and promote the high value of leveraging the power of others. I want to be a voice speaking out against the smartest-guy-in-the-room syndrome. Instead, I want to encourage people to learn, understand and grow by enlisting the help from others. It's all about the power of the collective. I want to attract anybody who is interested in doing this, and finding ways to do it more effectively.
b. If this podcast were like a party that I was hosting, what would I most want the theme to be?
The answer to this is about the same answer I gave to question number one.
c. Who do I most want to work with – translation, who do I most want to attract?
I only want to work with members of THE PEER ADVANTAGE by Bula Network. Yes, I want to attract people who might be interested in seizing that advantage, but I want to attract anybody who wants to take advantage of a peer group. It doesn't matter if it's a Vistage group, YPO, EO or any other group. I just want people to consider giving themselves the opportunity.
d. How can I provide the most value to that group of people?
I can promote the work others are doing in the space. There's PLENTY of opportunities. And my offer isn't for everybody. I want to bring the insights and experiences of people with all these other peer advisory companies – and individuals – and shine a bright light on them. I want to share what I've learned and am still learning in how we can have groups inside our organizations that can help us soar to new levels of achievement. Group learning can apply to all of us who are willing to embrace it. I want to be THE spotlight operator shining the light on it.
e. What content would provide me the most joy and the audience the most value?
The answer to the previous question applies.
f. Where is the gap in the market for these things? Translation: where is my best opportunity?
Other than my work with Leo at our podcast currently titled, WHAT ANYONE CAN DO – I don't see anybody doing anything. Not consistently in the podcasting space.
g. What do I most want this podcast to be known for?
Simply put, THE PEER ADVANTAGE by Bula Network is the only side of the fence I want to occupy for the rest of my life. This is work centered on legacy and significance. Business advice is a dime a dozen. Really a dime per many dozens. Everybody is an expert. I've never played that game. I'm like you. I'm bent on learning, understanding and growing. We both have a lot still to figure out, but we can sure serve each other by sharing what we've already figured out. And we can share the context, too. What worked for me may not work for you. But hearing about it might help you. I know hearing your experiences and insights will help me.
Time To Be ReBorn
I make no apologies for being a Christian. The great thing about being a Christian is a fresh start. The common word is "reborn." Everybody at some point in their life craves a fresh start. But even fresh starts can be scary.
The Grow Great Daily Brief is no more. To be reborn you have to say good-bye to something so you can say hello to something new. That also explains why I'm starting with episode 300. The 300 series is a new iteration of the podcast. Same feed. Same podcast subscription. No need for you to do anything different. Just keep listening (I hope).
The Peer Advantage not only serves the brand banner for the entirety of my work, but it serves to accurately illustrate what I want to preach.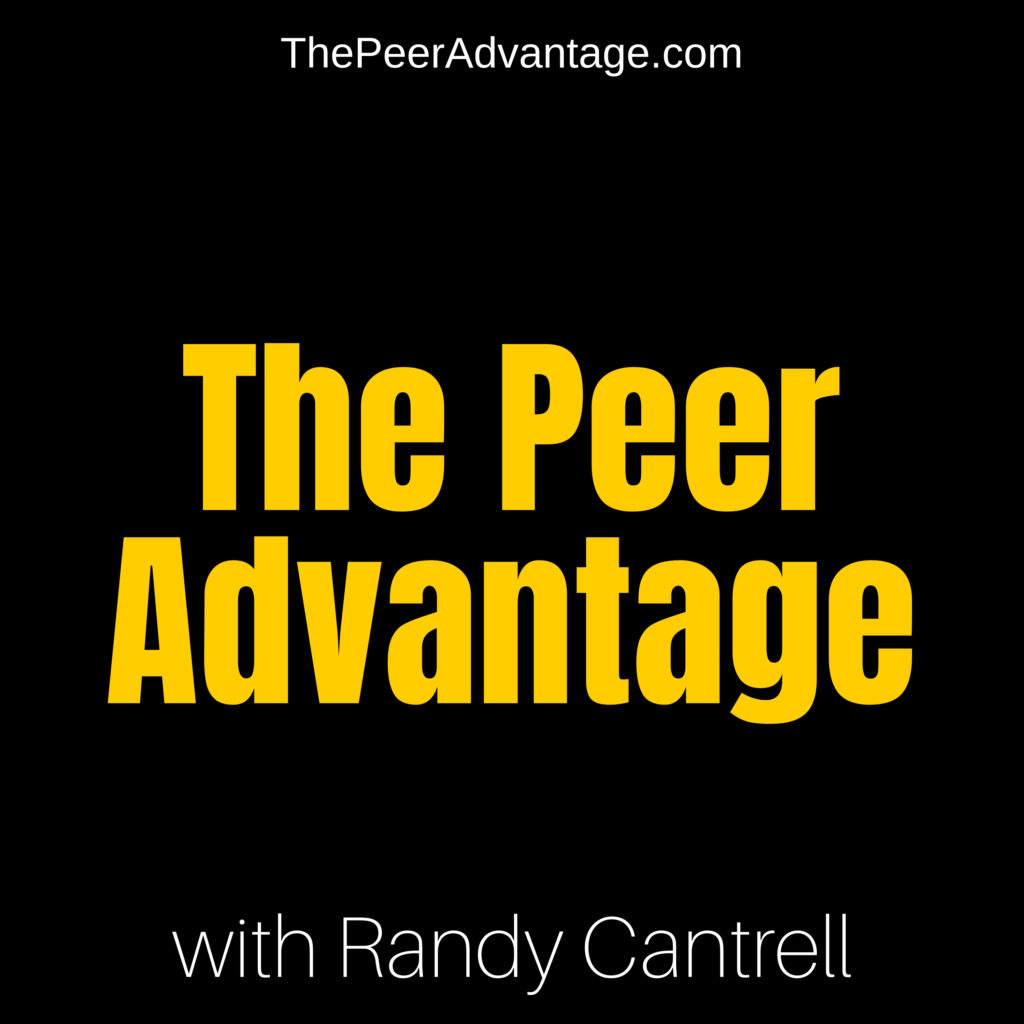 Here's the plan:
Each week I'll bring you an episode. Daily is great and I enjoyed it, but I want to devote more time the real work. And I simply have to say, "No" so I can say, "Yes."
I may randomly bring you more than one episode. But I'm going to work hard to bring you one episode weekly with really good, high-value content. I also plan to bring some interviews – something I've never done on my solo podcasts before. People who are involved in the peer advisory space, people who are benefiting from being part of a group, people with group learning know-how and whatever else might bring value to those of us interested in how to make groups more powerful and effective in improving higher human performance.
The focus will remain consistent. It's about the power of others. The power of the collective. That all of us together are way smarter than any single one of us. You can help me with a pithy tagline. Shoot me a message via the contact page with your ideas. For now, I'm using "Helping You Leverage The Power Of Others."
The Peer Advantage by Bula Network
I'm looking to launch group one within 30 days. I'm still looking diligently for just 7 SMB owners bold, brave and vulnerable enough to see the value. The details are at ThePeerAdvantage.com. If anything I've said resonates with you – or you know somebody with whom it might resonate – then please go apply today. The application doesn't guarantee anything other than a phone call so we can discover together whether this is an ideal fit for both of us.
Don't worry. The sign off won't change and the web address won't either. You'll still be able to find everything by going to GrowGreat.com.
Now…
Be well. Do good. Grow great!
Randy