Podcast: Play in new window | Download (Duration: 56:10 — 51.8MB)
Subscribe: Apple Podcasts | Google Podcasts | Spotify | Email | RSS | More
Professional Gunfighters Shoot From The Hip (But Only After Lots Of Preparation & Practice)
Have Gun – Will Travel was more than a TV show. It was a perfect marketing message. It told you everything you needed to know about the man's business. His name was Paladin. He was a gunfighter, but he was a gentleman who would try to resolve conflicts without a gun.
My dad, who turned 90 back in September, loved Paladin. He still does. What's not to love?
He wore black. He was cool. And intimidating. A black knight of the old west. He was simple, direct and skilled. No wonder he had a thriving business.
In 2002, while leading a Dallas-based retailing company, I crafted a presentation for my staff. It was a small inner circle of people I relied on to operate a multi-million dollar enterprise. Each person led their own part of the operation. It was the beginning of a new year and my speed freakiness was kicking in as usual. That was often the case during Q1. I hated slow starts. Still do.
The Gunfighter's Mentality
It was a Keynote (Powerpoint for you Windows folks) presentation, but I printed out the slides. My meetings were informal and intimate. A slide show didn't fit my style at the time. The title was, "The Gunfighter's Mentality: How Speed And Hitting Your Target Can Kill The Competition."
This week I thought about that presentation as I was working to help some people attack some roadblocks in their business. I dug it out of my files and started to review it and figured it might be helpful for you in building your business.
First, let me give you the backstory of recent observations that compelled me to remember this presentation.
• It's easy for some people to confuse motion with action.
• If you're too busy to plan your actions, then you're too busy to succeed.
• Ready, fire, aim only works if you've skillfully practiced the move.
• It's unprofessional and impolite to impose on others at the drop of a hat simply because you didn't prepare or plan.
• My grandmother had a sign in her kitchen that said something like…
The more hurried I am the more behind I get."
Paladin wasn't a frenetic character. He moved rather slowly, but deliberately. He was the epitome of purposeful action.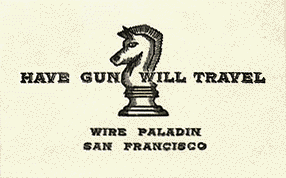 He also had a killer business card (pun intended).
The message was clear and to the point. Have Gun, Will Travel.
The location was simply, "San Francisco" which is likely all you needed in the old west. After all, if you lived on the east coast Paladin wasn't likely your man.
The call to action was simply two words, "Wire Paladin." No, Wire isn't a proper first name. It's a verb that had meaning in the pioneer west. Telegraphs were wires strung all over the country. People would send and receive "wires."
Gunfighters can teach us how to build better businesses, more efficient practices and become more profitable.
You can download the 21 page PDF of my original 2002 staff presentation here. No opt-in or anything required.
Some of the key points of this presentation speak directly to the problems facing many business owners, especially professional services entrepreneurs:
1. There is competition. Don't underestimate them.
2. Paying attention is an often under-valued skill.
3. You may not have to be first, but you must aim to be the best.
4. Preparation and practice solve tentativeness.
5. Focus on what matters most.
6. If everything is important, then nothing is important.
7. Focus only what is critical to the fight.
8. Prepare in advance.
9. Ask quality questions.
10. Craft quality answers.
11. It takes more time to prepare to move faster.
12. Show me the results.