Podcast: Play in new window | Download (Duration: 6:33 — 7.2MB)
Subscribe: Apple Podcasts | Google Podcasts | Spotify | Email | RSS | More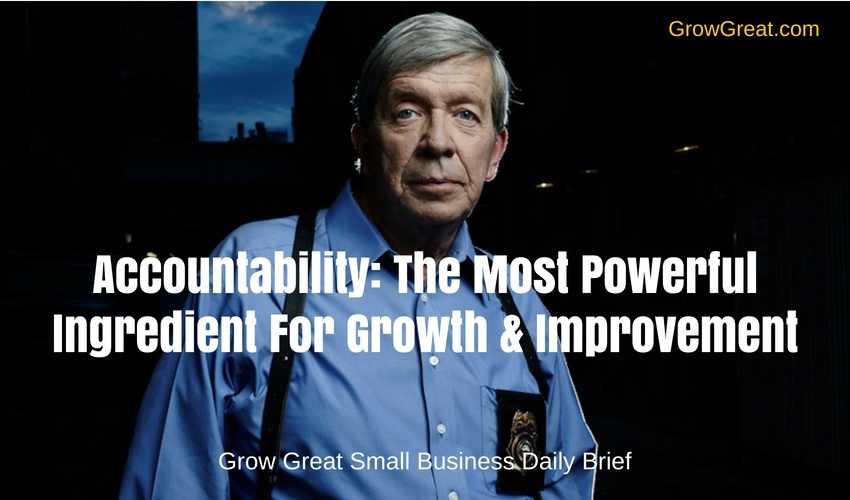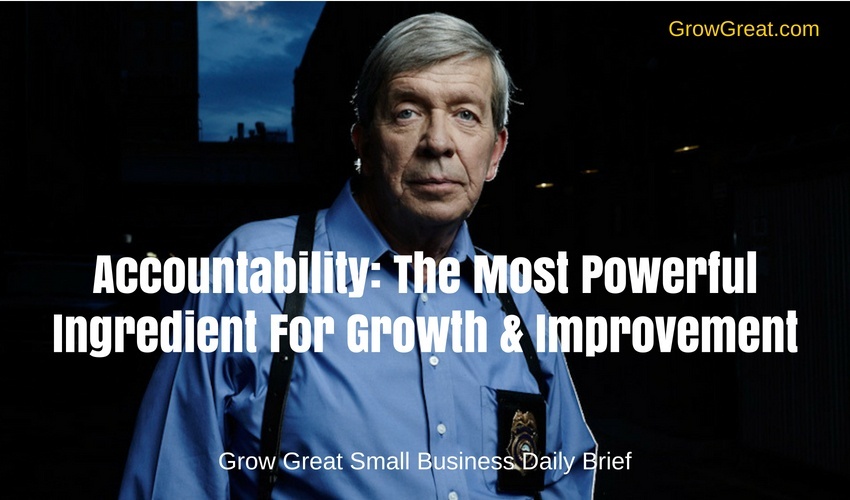 If Lt. Joe Kenda were my accountability partner, I'd likely either be too scared to do anything, or I'd get off my butt and get it all done! The police, our laws, and the government are one major form of accountability. Every society needs them. Otherwise, nobody is safe. It's mayhem and chaos without them.
Your business and career may not be filled with mayhem and chaos (or maybe they are), but this much is sure. If you – the business owner – don't have sufficient accountability, then you're not performing at your highest. All higher human performance requires accountability. That includes yours.
CEOs and business owners often comment about their craving for accountability. They don't crave bosses, people telling them what to do. But they crave what every competitive, driven person craves. Somebody to hold them accountable to the things they most want to accomplish.
The athlete devoted to becoming better – to winning – enjoys the accountability coaches bring. Is it always pleasant and fun? No. But it's profitable. And infinitely more fun than losing, or failing to live up our potential.
Accountability helps us close the gap between our current performance and our more optimum performance. There's always room for improvement.
It's what you do for your employees. When you do it well, their performance is enhanced. They do better because of you. It's how you best serve them.
Marc is a CEO of a $24M distribution business with 80 employees. The business rebounded nicely since the 2008/2009 dive. It was painful, but Marc was able to navigate it with minimal long-term damage. One price he paid was the departure of his right hand, Duncan. He was offered a new opportunity and Marc simply wasn't able to retain him. It created a void that Marc still hasn't filled. He confesses that the thing he misses most about losing Duncan is a degree of accountability he always felt with Duncan who had been with him for almost 10 years. It wasn't pure accountability because Duncan worked for him, but it was the closest thing Marc had ever experienced. Today, Marc says, "I'm not better without it (accountability)."
Accountability isn't all created equally. Duncan provided Marc a level that was far better than nothing, but it was boss-employee accountability. Duncan would likely tell us he was made better because Marc held him accountable in a very different way…because Marc was the CEO and boss. Duncan had to tread much more carefully, but since Marc isn't a leader prone to surround himself with YES men, Duncan found himself able to be a decent sounding board for the boss.
The purest accountability has a strong desire to serve the person seeking it. Marc admits that today he craves it. All high performers do. It's the major stuff of executive coaching. Good executive coaches don't barge into your place telling you how to do things. Or telling you what to do. Rather, their primary objective is to help leaders grow, improve and transform. Accountability is the most powerful ingredient necessary to facilitate those things.
Other forms of accountability can also be useful. A board of advisors is somewhat common. These boards are most often populated with other business connections who have found favor with the owner. That doesn't mean they can't serve the role well. Or that they're not able to ask great questions, which provoke the CEO or owner to perform up to the standards she's established. The most effective boards are able to help the CEO achieve the objectives he wants.
Accountability should always be determined by the person seeking it, or willing to accept it. The coach doesn't play the sport. The athlete does. But the coach wants to help the athlete perform at her very best. It's about the player. Always.
Business coaching, executive coaching in particular, is often misunderstood. Leaders may think some yahoo is going to come in, filled with ideas on how things ought to be done, and impose their ideas on the company. The role of the coach isn't to play the game, but to help the player play the game more competitively. To help the player win. Period.
There's only one true measurement of an executive coach's success. The elevated performance of the CEO. Nothing else matters!
Here's how accountability helps you.
It helps you distill what matters most to you and your performance in leading the company.
It helps you figure out how to best hit the targets you establish.
It helps you get on track and stay there as you pursue your stated goals.
It gives you encouragement and confidence when you need it most.
It pushes you further faster.
It helps you eliminate excuses, no matter what!
It helps you take your entire game to a whole new level, even reaching heights you may have thought were unreachable.
Nothing can replace it. Truth is, nothing even comes close.
Be well. Do good. Grow great!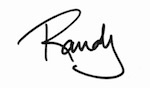 Subscribe to the podcast
To subscribe, please use the links below:
If you have a chance, please leave me an honest rating and review on iTunes by clicking Review on iTunes. It'll help the show rank better in iTunes.
Thank you!