Podcast: Play in new window | Download (Duration: 2:57 — 3.1MB)
Subscribe: Apple Podcasts | Google Podcasts | Spotify | Email | RSS | More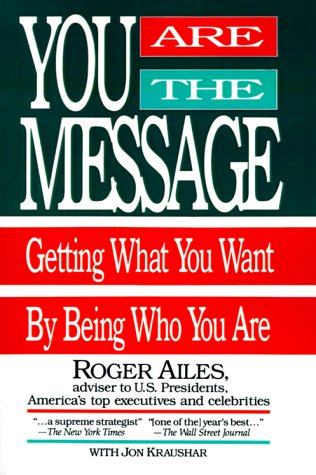 Long before he was the grand poopah over at Fox News, Roger Ailes ran his own communications company in New York City. He was the executive producer of The Mike Douglas Show back in the day. He's coached and counseled executives, celebrities and politicians. In 1988 he headed up the advertising for the campaign of George H. W. Bush (the senior Bush). The man knows his stuff.
"You Are The Message: Getting What You Want By Being Who You Are" by Roger Ailes
I bought and read this book back in 1988 when it was published. The other day I snagged it off the shelf to revisit it. I intended to skim through it, but I just may sit down and actually re-read the entire thing. Yep, it's that good!
It really deserves more than a Bula! Minute (they're not really a minute, but they are under 4). You can likely find a copy of this at your local used bookstore or snatch up a copy online somewhere.
I'm a sucker for a good communications book. My shelves are filled with them, but this one has stood the test of time. Besides, I like Mr. Ailes' style.
Enjoy!