Podcast: Play in new window | Download (Duration: 10:37 — 11.0MB)
Subscribe: Apple Podcasts | Google Podcasts | Spotify | Email | RSS | More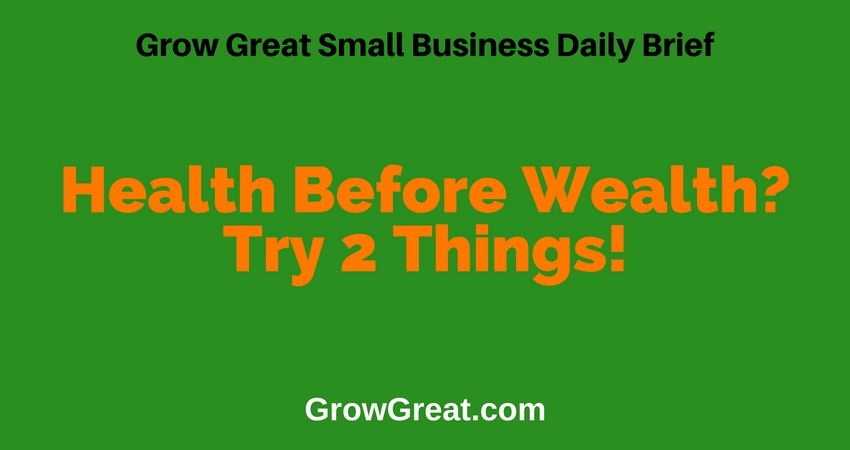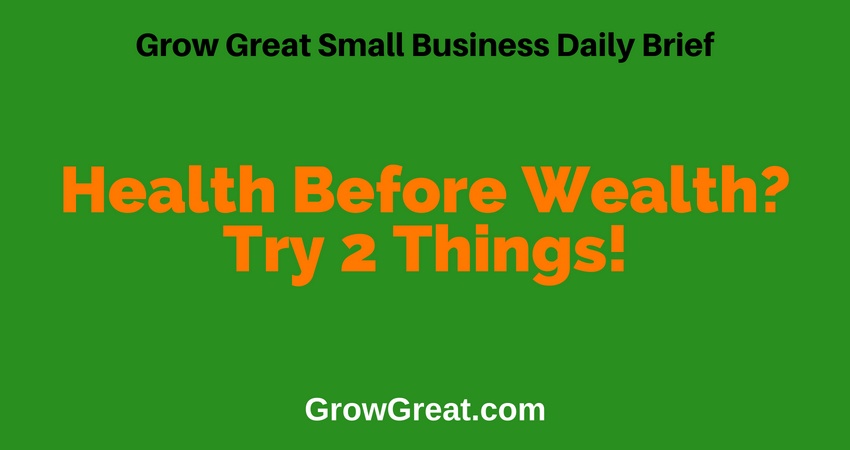 Benjamin Franklin is quoted to have said: "Early to bed and early to rise, makes a man healthy, wealthy, and wise." Did Ben mention these in order of importance? Or was it merely alphabetical? I don't know. But I do know health is primary because, without it, wealth (at least the financial kind) is fairly useless. To be fair, wealth can be used to help us regain health (maybe). But every wealthy person I know in ill health would trade their wealth for better health.
Let's talk about the importance of your health. Don't worry. I'm not going to preach. You're a business owner. You make your own decisions. And I'm not going to start judging you. I'm just going to share some things I hope will provoke you to think. Maybe they'll prompt you to make decisions to do some things. Just don't tune me out.
It was almost 20 years ago. Not quite. My wife and I went to a hospital to visit an aging friend. He had been in ill health for as long as we could remember. Not necessarily due to anything he had done, or neglected to do. His wife had taken care of him all this time. He was in and out of the hospital quite often.
On this day we walked out to the parking lot after a nice visit, seeing him in the hospital. My wife was driving. As we settled into the car I turned to my wife while fastening my seat belt and said, "I don't think I can do that to you." I wasn't intending it to sound so judgmental of our sick friend. But that's what I said. And it's what I meant. I meant I didn't want to do anything that would potentially put my wife in a position to have to care for me and risk wrecking her own health in the process – something else we've seen with older friends through the years.
Within just a few days I was sitting in a local gym signing up for a 3-year prepaid membership. It was about $700 as I recall, and included half a dozen personal training sessions. The added bonus was I'd be able to renew each year, starting in year 4, for less than $100 a year. My membership is still intact. I just renewed it at the beginning of this month. I share those details because I was committed. I had flipped some switch in my head and now I had some big money on the line, along with a long-term commitment. I was IN.
It was my fitness and health epiphany. Maybe you've had your own. Email me if you'd like to share it. I'd love to hear it.
If you haven't had yours yet, maybe this show will provide it for you.
Going to the gym 5-7 days a week allows me to see lots of different folks. In all kinds of shapes. And all ages. Just the other day an elderly man with a cane was feebly trying to make his way to a treadmill. Stepping up on the treadmill was difficult. I approached him and asked, "Sir, may I help you?" He gratefully accepted, took my arm and I helped him up to the treadmill. Of course, as I went back to what I was doing I feared I may have just helped him to his death, but I reflected on my decision made years ago. And I watched this man slowly walk on the treadmill while holding both sides and wondered about his past. He didn't' get into this shape overnight. None of us do. Sometimes our past (or our genetic makeup, or our bad habits) catch up with us.
What investment are you making in your health and fitness? I'm unable to separate them because fitness is just what it says, our fitness to perform. In our case, it incorporates our fitness to operate our businesses.
We could think about the high cost of health care, but that's not why this is important.
We could talk about the people we love, but we often neglect and behave poorly toward them even though we love them.
We could talk about feeling better, but it feels pretty good to eat a great steak. Or whatever favorite delectable you choose.
We could think about elevating our energy, but what difference does that make? We muscle through every day no matter what.
The reality of health and fitness is just like all our other realities. We do what we decide to do. It boils down to us making up our mind. I can't do it for you. And plenty of smarter people have shared with you tons of reasons why it's important. Your doctor may be at the top of that list of smart folks. But still you pay it little or no attention. You've got every excuse there is. Not enough time. It's too hard. It's too late for you. It's too early (you've got plenty of time to get around to it). It's too inconvenient. Blah, blah, blah. The list of excuses is neverending.
Question: Do you ever think of potential business problems ahead of time? Or do you just wait until the shoe falls, then address them?
Smart business people are proactive to a fault. They anticipate. Prepare. Plan. You're smart. I know. Because you're listening to this podcast. 😉
Do you have a clue what you'll do if you go to the office this morning and your right-hand person hands you their resignation? Daily you face a barrage of challenges. You face them. You keep going. Some days you win, some days you don't. No matter…you know the game is long and one day doesn't a success or failure make.
How is your health and fitness any different? It's a problem just like your other problems. You can either proactively prepare to conquer it, or you can ignore it until you're forced to face it. Fram oil filters used to run a TV spot advocating the value of changing your car's oil and filter. The mechanic told us about how expensive it would be to neglect it. He ended the spot with this statement, "You can pay me now or pay me later." You could have him change your oil and filter for a nominal amount or you could pay him big money later to rebuild your engine. Your health and fitness works exactly the same way.
Today, I'm challenging you to just do two things. They're the two most important things.
One, make up your mind. Decide that your health and fitness are going to be important. Instantly you can decide. Just do it. Right now.
Two, carve out just 15 minutes once a day to take a walk. Don't focus on what you have give up, or how you need to make some BIG change. Forget that. 15 minutes a day. That's it. Every single day. That's less than 2 hours a week. You gotta start somewhere. And that's such a short time investment you're without excuse to make it.
Okay, let me add just a few closing thoughts. You'll thank me later. Assuming you do those 2 things I just mentioned. Don't talk on the phone. Don't text. Don't fool with email. Unplug or listen to this podcast. Or music. Or an audiobook. Don't do anything interactive though. Walk and listen. Either to digital content or nature. Or the city sounds. Give yourself permission to chill for 15 minutes while you walk.
Keep it up for about 10 days straight. I'm begging you to make an investment of 2.5 hours. That's what it'll be over the course of 10 days.
From there, see what happens. You're smart. You'll figure it out. Now you know why my sign off begins as it does.
Be well. Do good. Grow great!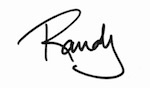 Subscribe to the podcast
To subscribe, please use the links below:
If you have a chance, please leave me an honest rating and review on iTunes by clicking Review on iTunes. It'll help the show rank better in iTunes.
Thank you!