Podcast: Play in new window | Download (Duration: 4:40 — 4.3MB)
Subscribe: Apple Podcasts | Google Podcasts | Spotify | Email | RSS | More
Growing up I was always entertained when a plate spinner would appear on a variety TV show.
Today was the absolute worst day ever
And don't try to convince me that
There's something good in every day
Because, when you take a closer look,
This world is a pretty evil place.
Even if
Some goodness does shine through once in a while
Satisfaction and happiness don't last.
And it's not true that
It's all in the mind and heart
Because
True happiness can be attained
Only if one's surroundings are good.
It's not true that good exists
I'm sure you can agree that
The reality
Creates
My attitude
It's all beyond my control
And you'll never in a million years hear me say that
Today was a very good day.

by Chanie Gorkin
Now read it from bottom to top.
Life is largely a matter of perspective. When you find yourself growing less grateful, more frustrated and confused, shift your thinking to focus on the things that are going well. Mostly, think about the people accompanying you on your leadership journey. Focusing on others tend to help us figure things out in our own lives.
Be well. Do good. Grow great!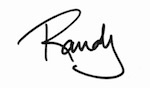 Check out the Hosts page for our profiles.
Connect With Lisa On Linkedin • Connect With Randy On Linkedin
We encourage you to contact us. Feedback, suggestions, criticisms, insights, and experiences are welcomed. Thank you for watching and listening!