Podcast: Play in new window | Download ()
Subscribe: Apple Podcasts | Google Podcasts | Spotify | Email | RSS | More
Download The Podcast Or Playback Without Flash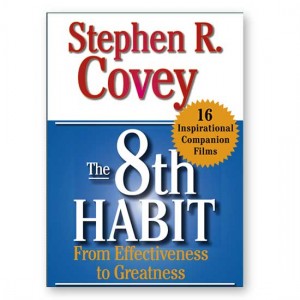 First published in 2004, Stephen R. Covey's "The 8th Habit" was a highly acclaimed follow-up to "The 7 Habits Of Highly Effective People."
For weeks I've been staring at this book on my bookshelf. It's now been almost 7 years since I read it. I've been tempted to re-read it a number of times, but for some reason I've been distracted with other reading. Juggling too many books at once is a lifelong habit, my 9th habit.
At long last, I'm now re-reading it and decided I'd share my thoughts along the way. No, it won't occupy every podcast, but I'll talk about it every now and then. I hope to share some insights and thoughts sparked by Mr. Covey. He's pretty good at such things, but I confess I found this book a bit cumbersome to read the first time around. That's why I wanted to re-read it. I suspect I missed some things the first time around.
I'll discuss this 8th habit and riff on about a few things. Don't worry, I don't talk about how Mr. Covey and I share nicely shaped heads to house our big brains…but we do!
Mentioned in today's show: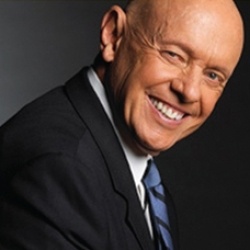 • Ryan Cantrell, my son; Joanna, his wife; Kinsley, their new daughter
• Chris Pearson, creator of the Thesis premium WordPress theme (aff link)
• Copyblogger, whose original killer design was provided by Chris Pearson
• Brian Gardner, StudioPress
• Aaron Wall, whose SEO Book website was my first introduction to Chris Pearson's work
• James Dalman, a friend I reached out to about a WordPress design for a client (he's an old school rock-solid design guy)
• Barron Cuadro, the one website design guy (not a friend) who was prompt and professional in returning an inquiry.
• Phil Simon of PhilSimonSystems.com, author/speaker/all-around-good-guy
• Marcus Sheridan, The Sales Lion, blogger/social media expert/friendly-supportive-online-buddy
• One Bible illustration (even the heretics among us will have to agree the illustration is worthwhile)
• Winning friends and influencing people references a book by the famous Mr. Carnegie
• I am NOT opposed to selling things. In fact, I need to sell something. I help solopreneurs and small business owners with management and marketing issues. I sometimes accept payment for such help. 😀
Thank you very much for listening. I'd love to hear your feedback. You can call (214) 736-4406 any time, day or night and leave me a voice mail.