Podcast: Play in new window | Download (Duration: 32:21 — 29.6MB)
Subscribe: Apple Podcasts | Google Podcasts | Spotify | Email | RSS | More
I first met Leo Bottary via an email I sent him. A cold email. He had no clue who or what I was.
I had read his first book (co-authored with Leon Shapiro, CEO of Vistage) – THE POWER OF PEERS. I wanted to see if Leo had any interest in starting a podcast. I found great value in the ideas put forth in that first book. And wondered if a podcast might help get the word out that there's tremendous power in helping others and allowing others to help us.
I did a series of audio summaries of that first book – THE POWER OF OTHERS – right here. You may want to go back to check out those episodes. Click here and you'll see the entire list. Or click here for the first in that series of summaries – and go here for Leo's interview after I summarized all 11 chapters of that first book.
Well, one thing led to another and we launched a podcast called YEAR OF THE PEER. Today, it's called PEERNOVATION (just like the title of Leo's third book).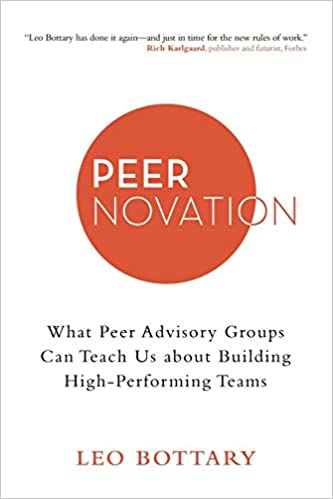 Days ago the book was released – Peernovation: What Peer Advisory Groups Can Teach Us About Building High-performing Teams.
Leo has intentionally priced it for the widest possible audience. We both hope you'll invest in a copy. Better yet, we hope you'll employ the framework to help you become part of or leader of a higher-performing team.
Today, Leo joins me as we talk about his childhood and growing up in Boston to a fantastic story about his father's late-life success in a brand new career.
Visit Leo's website at LeoBottary.com. Here's the show we did at the Peernovation podcast this week on the birth of this new book.
Connect with Leo on Linkedin | Twitter | Instagram
Tweet him that you enjoyed today's conversation.
Be well. Do good. Grow great!