Podcast: Play in new window | Download (Duration: 1:12:45 — 66.6MB)
Subscribe: Apple Podcasts | Google Podcasts | Spotify | Email | RSS | More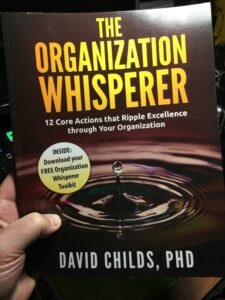 Today, I'm rejoining Dr. David Childs, Ph.D. for a conversation about what Jim Collins referred to in his books as Level 5 Leadership. David is highly qualified in high-performance leadership. In 2015 he published a book, The Organization Whisperer: 12 Core Actions That Ripple Excellence Through Your Organization. I encourage you to connect with him on Linkedin. Visit his website at The Organization Whisperer.
David and I have been engaged in some ongoing email correspondence conversations about leadership for months now. Today's show is an outgrowth of some of those as David shares with us his list of 10 traits that characterize Level 5 Leadership as he sees it. We discuss the first 5 in this conversation because those are the ones David thinks deserve the most attention. We'll cover the remaining 5 in part two, which I promise will be shorter. 😉
Here's his list:
Inspiring Vision
Integrity
Lives with a positive/can-do spirit
Partners with other positive excellence
Measures efficiency and outcomes
Synthesizes
Prioritizes effectively/holistically
Innovatively improves
Multi-tasks with focus
Completes/implements
Enjoy.