Podcast: Play in new window | Download (Duration: 35:06 — 32.1MB)
Subscribe: Apple Podcasts | Google Podcasts | Spotify | Email | RSS | More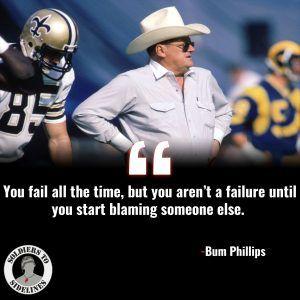 Bum Phillips was a quotable NFL coach, a good 'ol boy from Texas. We're fans of this quote Bum uttered about failure. It speaks to the excuse-making that is so easy to do, and shows how blaming others (or anything really) isn't the path toward growing great.
"You fail all the time, but you aren't a failure until you start blaming someone else."
Join us for the conversation about how great leaders shoulder the responsibility to create a high-performance culture. Great leaders happily accept responsibility…for everything. It's empowering and provides leaders with the liberty to get on with helping their organization reach new heights.
Be well. Do good. Grow great!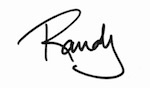 Check out the Hosts page for our profiles.
Connect With Lisa On Linkedin • Connect With Randy On Linkedin
We encourage you to contact us. Feedback, suggestions, criticisms, insights, experiences – they're all welcomed. Thank you for watching and listening!