Podcast: Play in new window | Download (Duration: 43:10 — 39.5MB)
Subscribe: Apple Podcasts | Google Podcasts | Spotify | Email | RSS | More
As consumer we've all experienced that awful time when people don't do what they say. It's frustrating. Sometimes infuriating. Because we're on the receiving end of that experience.
Truth is, we're all capable of being on the other end, too. We can tell others we'll do something, but then drop the ball leaving it undone. Or late. Or done poorly.
Salespeople are taught early and often about setting expectations for prospects and customers. "Don't over-promise," was pounded into my head as a teenager selling stereo systems. Any business interested in building customer loyalty is focused on not being transactional – just making a sale to get a buck! Relationships matter and they're built on trust. Trust is quickly broken when we show others that our word is not our bond.
Today, let's talk about – and take meaningful action – incorporating this trait into our leadership so we can grow into the most effective leader possible.
Be well. Do good. Grow great!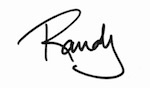 Check out the Hosts page for our profiles.
Connect With Lisa On Linkedin • Connect With Randy On Linkedin
We encourage you to contact us. Feedback, suggestions, criticisms, insights, and experiences are welcomed. Thank you for watching and listening!