Podcast: Play in new window | Download (Duration: 39:06 — 35.8MB)
Subscribe: Apple Podcasts | Google Podcasts | Spotify | Email | RSS | More
Everything is hard until it's easy. Everything is slow until it's fast.
You have dreams and ambitions. You also have pain, suffering and sorrow. Hopefully you have a few Instagram moments every now and again, but mostly your life is likely routine filled with a fair amount of tears, angst and trepidation coupled with bouts of confidence, belief and optimism. It's the roller coaster that we're all riding on. Together.
That whole "leave it outside the office" admonition is not just foolish, it's impossible. Life doesn't happen or get in the way…life is part of who we become – and who we already are – as leaders. It's also what helps each of us build compassion toward others.
Leadership is:
Influence
A focus on others
Doing for others what they're unable to do for themselves
All the elements of our life contribute to build stronger leadership IF we'll leverage them properly.
Today, Lisa and I share some of our "life outside the office" and how it's serving us to increase our resilience and determination.
Be well. Do good. Grow great!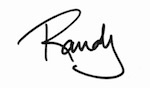 Check out the Hosts page for our profiles.
Connect With Lisa On Linkedin • Connect With Randy On Linkedin
We encourage you to contact us. Feedback, suggestions, criticisms, insights, and experiences are welcomed. Thank you for watching and listening!