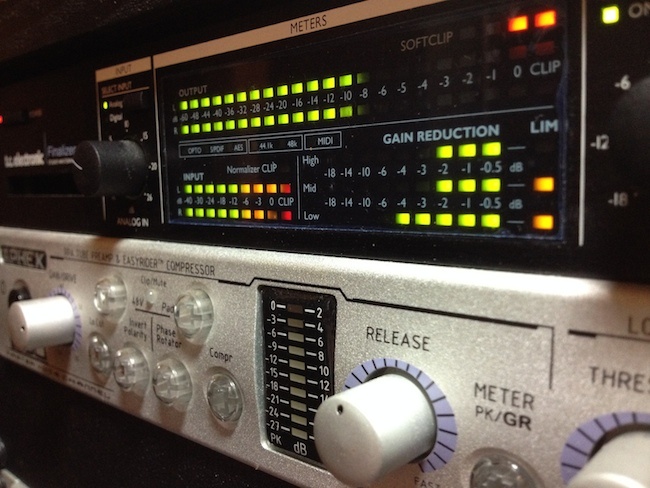 Podcast: Play in new window | Download (Duration: 43:52 — 49.7MB)
Subscribe: Apple Podcasts | Google Podcasts | Spotify | Email | RSS | More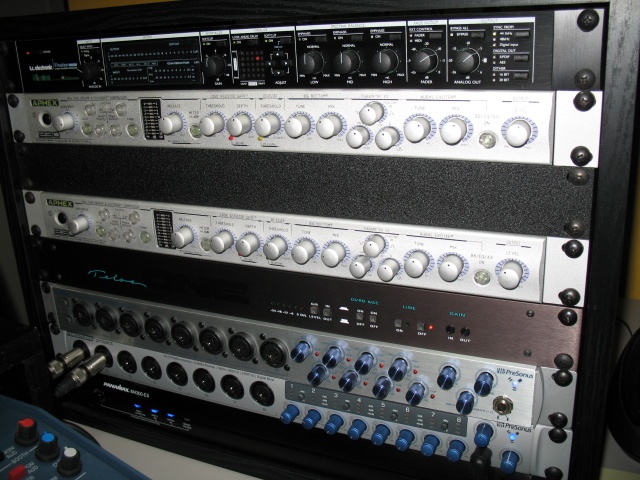 Here it is, kids! It's the technical show that some of you have been clamoring for – this is the engine behind what goes on inside The Yellow Studio.
The studio is a 2-mic studio that can be expanded to three if necessary. It never is.
The studio desk seats three people. The pictures don't depict that very well because I pushed the chairs under the desk.
Sound deadening is all handled by books, books and more books. I've had acoustical foam treatment in the past, but The Yellow Studio doesn't need it. Books, art work and no open corners handle things nicely.
I prefer dimly lit rooms with cool lamps, but the studio does have overhead florescent lighting – although I never use it. The yellow walls brighten up the joint, hence the name – The Yellow Studio.
Here's a list of the cool stuff (these are not affiliate links; I do have an affiliate list for most of my resources on this page – I'd appreciate your support):
• Herman Miller Mirra chair
• Apple iMac 27″ with i7 processor (4GB RAM / 1TB Hard Drive)
• Apple MacBook Pro 15″
• Adobe Audition (requires Windows until the Mac only version is released)
• Apple Studio Logic
• Ambrosia Wiretap Studio ($69  – well worth it)
• Ambrosia Soundboard (my sound cart software of choice; this is $49 – also well worth it)
• Sound Byte by Black Cat Systems (another sound cart software that is also excellent)
• ID3 Editor (to create ID tags)
• Transmit by Panic is my ftp program of choice
• Call Recorder by ECamm (the software I use to record Skype calls – when I don't use Wiretap Studio)
• Edirol R-09HR digital recorder
• Broadcast Tools ProMix12 broadcast console/mixer
• Yamaha MG124C mixer
• Heil Sound PR40 microphones (I love the microphones – they're my oldest pieces of gear)
• Heil Sound SM1 Shock Mounts
• Heil Sound PL2T Booms
• Heil Sound RS1 boom 12″ extension mount (for one mic; the other mic uses the C clamp)
• Heil Sound pop filters for each PR40
• Heil Sound foam pop filter (I have one of these in case I want to take a PR40 out in the field to use; never happens, by the way)
• Electro-Voice RE50B microphones (I have two of these for field use, but they work equally well in the studio)
• Aphex 230 Voice Channel Processors (one for each PR40 mic)
• TC Electronic Finalizer Express (a final processor that handles everything going through the board)
• Telos One Phone Hybrid
• PreSonus FP10 Firewire Interface (one for each computer)
• Panamax power management
• Aphex Headpod 454 Headphone Amp
• Kensington Keyboards
• Logitech Laser mouse (for the laptop)
• Sennheiser HD25-MKII headphones
• Kodak Zi8 camera with a corded inexpensive AT lapel microphone
• Logitech 1080p Webcam Pro C910 (was added after this episode was recorded)
• ScreenFlow by Telestream (screen capture and video recording software)
• iMovie by Apple (also for some video recording)
• Apple QuickTime Pro (can record audio, video or screen capture)
• Camera Stabilizer (this is great; buy one if you don't have one)
Check out the two prior episodes about The Yellow Studio:
– The Ladies Welcome You To The Yellow Studio
– Episode 75 – Behind The Scenes Of The Yellow Studio (Randy's 3 Addictions)
Here are a few more pictures to satisfy your curiosity.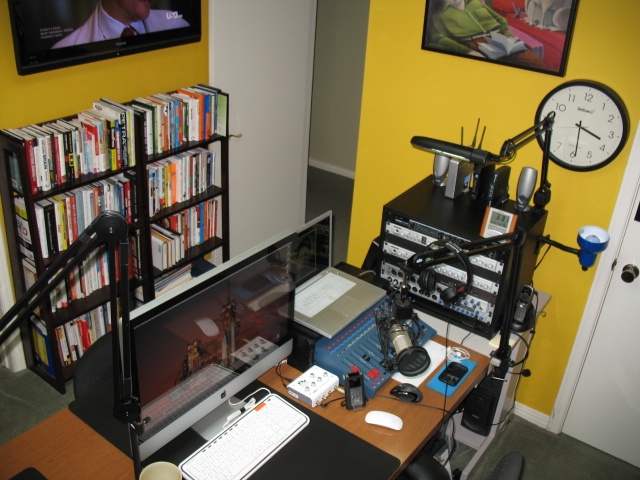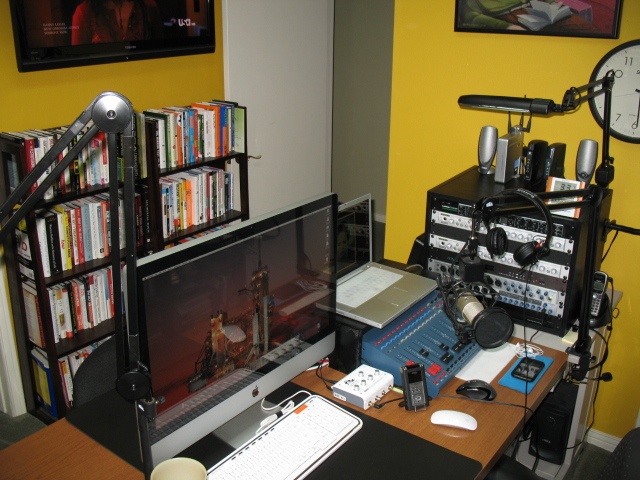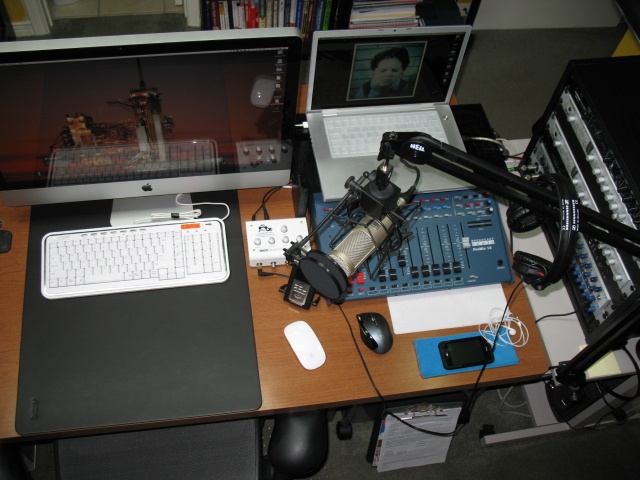 Rosie sometimes is the guardian of The Yellow Studio. Rocky is rarely allowed inside due to heavy snoring.