Podcast: Play in new window | Download (Duration: 31:37 — 29.0MB)
Subscribe: Apple Podcasts | Google Podcasts | Spotify | Email | RSS | More
Talent is often seen as the top priority when hiring others and when we examine our own lives. But is talent THE determining factor in success and high performance? Or are there other characteristics that may matter more?
Talent is merely an entry point. Without it, we don't get to join the team and play. But it in no way guarantees that we'll become an A player.
What about drive, the willingness to push ourselves, to endure discomfort, to overcome adversity, to owning our own outcomes, to avoid excuse-making, the commitment to figure it out (whatever IT may be)? What about our willingness to do what must be done so we can perform at the highest level?
Listen in as Lisa and I discuss what we've seen out here in the real world of high performance teams, organizations and individuals.
Be well. Do good. Grow great!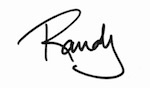 Check out the Hosts page for our profiles.
Connect With Lisa On Linkedin • Connect With Randy On Linkedin
We encourage you to contact us. Feedback, suggestions, criticisms, insights, and experiences are welcomed. Thank you for watching and listening!